My girlfriend recently gave me a bamboo iPhone case made by a company called Cicada. On the box by way of explanation for their company, they included a Tang Dynasty poem: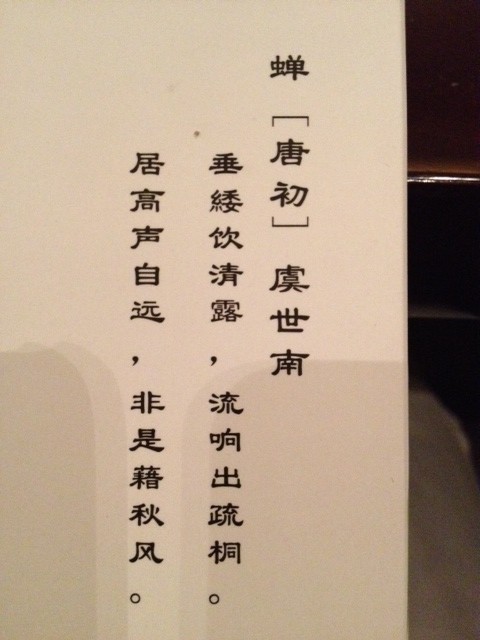 My translation:
"Cicada"
Yu Shinan [Early Tang Dynasty]
Hanging from a drooping branch drinking dew,
Its sound scatters though the  phoenix trees.
Living high up it makes sounds that travel far,
Not relying on the fall wind to carry them.
Note: The last two lines of the poem are supposed to represent the idea that if you're doing something good or you're powerful, you don't need to rely on the help of others to publicize it. The Baidu review of the poem has this to say: è‰å£°è¿œä¼ ï¼Œä¸€èˆ¬äººå¾€å¾€ä»¥ä¸ºæ˜¯è—‰åŠ©äºŽç§‹é£Žçš"ä¼ é€ï¼Œè¯—äººå´åˆ«æœ‰ä¼šå¿ƒï¼Œå¼ºè°ƒè¿™æ˜¯ç"±äºŽâ€œå±…高"而自能致远ã€'这种独特çš"æ"Ÿå—蕴含一个真理:立身å"æ ¼é«˜æ´çš"人,并不需要某种外在çš"凭藉. So I guess the idea is that these iPhone cases are supposed to be so sweet that word about them will get around without any help at all…