As part of Mr Xi's current China Dream campaign, I've seen a lot of these kinds of poems plastered all over the subways.
Here's an interesting one: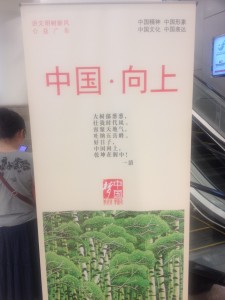 《中国·向上》
大æ '郁è'±è'±
壮我时代风
容聚天地气
吐纳五岳峰。
好日子,
中国向上,
乾坤在握中!
"China Rising"
The great tree grows lush and green
Strong in the winds of our age
Uniting the power of heaven and earth
Breathing the air upon China's great peaks.
These are good days,
China is rising
The world is within our grasp!
+++
What a difference stopping to read these poems makes! You'd think it's just some silly stuff about trees, but no, it's a tree that's going to take over the world. Whoa.